Share:
---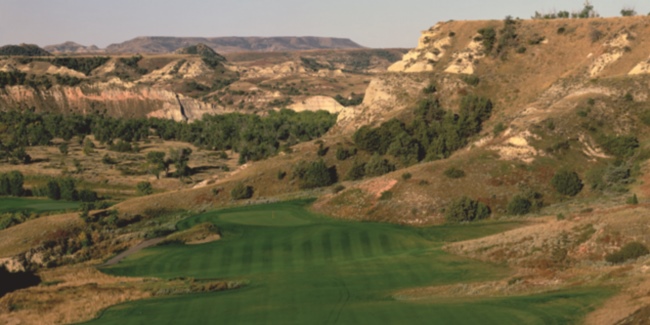 Bold and Bully
North Dakota's Bully Pulpit Gears Up for a Huge Season
By Glen Turk
The design duo of Dr. Michael Hurdzan and Dana Fry specialize in sculpting memorable golf courses from incomparable landscapes. In the Midwest, 2017 U.S. Open host Erin Hills and Little Mountain CC in Ohio are two perfect examples. Farther west in Medora, North Dakota resides Bully Pulpit, a golf course just as famous as the U.S. President who called Medora home starting in his 20's.

Teddy Roosevelt was our Commander in Chief from 1901-1909 and coined the phrase "Bully Pulpit" to describe his Presidential platform. One of Roosevelt's lasting achievements was creating the U.S. Parks system, so it's obvious the think the 26th President would be thrilled to have his name attached to a golf sanctuary.

The par-72, 7413 yard layout is set just south of Medora along the Little Missouri River and will blow your mind from the opening tee shot to the final putt. The combination of a walkable river bottom and epic mountain vistas in all directions gives Bully Pulpit a style all its own. Dr. Michael Hurdzan offered this unique perspective before deciding to take the job. "Although I have seen thousands of potential golf course sites, this one near Medora, North Dakota, may be the best I have seen without ocean views," stated Hurdzan. "In keeping with that theme, the design and maintenance strategy of Bully Pulpit was to preserve the environment and enhance wildlife habitat. Golfers will marvel at the detail given to the environment during construction and the variety in topography, wildlife, and natural vistas," concluded Hurdzan.

It is no surprise that Golf Digest recently ranked Bully Pulpit as one of the Top 100 Public Courses in America and number three in the Peace Garden State. All those numbers add up to heady times for Bully Pulpit in 2013. "With our recent rating in the Top 100 of American's Greatest Public Golf Courses by Golf Digest the excitement and anticipation is present which is different than past years," explained new Head Golf Professional Casey Meon. "The hype and enthusiasm for the 2013 season makes it fun to be a part of Bully Pulpit. This will also be the first season as a PGA accredited facility with my arrival as a PGA Member. I am excited to bring in PGA practices and continue to grow the game of golf and the recognition of Bully Pulpit across the nation," stated Meon.

And Casey not only has an amazing property to tout, he oversees a course that provides one of the best values in America. At no time will you ever pay more than $85 and their $39 replay rate begs you to take former Chicago Cub's Hall of Famer Ernie Banks famous saying to heart and "let's play two!"

I doesn't want to spoil all the surprises found at "Bully", but here are a few of our favorite holes throughout.

The first hole dubbed "Boots and Saddles" features a fairway as wide as an aircraft carrier and is the epitome of a perfect starting hole. Other than its imposing length (435 yards), most players will card a stress-free bogey or better to begin their round. The view from the tee box slightly down to the pristine fairway will clue you in to the memorable round that waits.

The fourth hole named "Custer's Wash" is a stunning par-5 with a story to tell. "The Little Mo (as in Missouri) River created this golf course site by bringing down Badlands sediments in the spring melt waters, depositing them along its edges when it flooded," began Dr. Hurdzan. "Now and then it takes back some of those deposits as it meanders northward. In time, the Little Mo will take back the tees on this hole but in the meantime, it allowed me to design a hole that sort of follows the river as it turns slightly left. The key to this hole is to play along the left edge of the fairway, closest to Lil' Mo, for the easiest approach to this bowl shaped green," finished Hurdzan.

Bully Pulpit's multiple personalities come to the forefront on the par-3, 170 yard 8th hole. While the first seven holes show off the Badlands from all views, the par-3 allows you to fire through a shoot of pine trees to a putting surface protected by Davis Creek on the left. Make sure to have your camera or smart phone at the ready on the 8th tee box. Casey Meon absolutely loves this hole and offers the following reasons why. "To begin with, I have a soft spot for par-3's. The 8th at Bully Pulpit Golf Course is 200 yards from the tips named 'Cedars'. Sitting directly in the middle of our woodlands stretch of golf, this narrow tee shot to a large tricky green requires precision. Left is trouble with a creek and your bail out right is protected by a green side bunker. Even the most solidly struck golf shot doesn't know its destination until it comes to rest," stated Meon.

The inward nine at Bully Pulpit turns from stunning to insane starting on hole number 13. As we've stated many times before, every upper echelon course should have a drivable par-4 that dabbles in equal amounts risk and reward. At 291 yards with a huge creek and bunker complex in front of the green, the 13th is an underrated gem that begins an outer-worldly stretch.

It's important to note that while Bully Pulpit was designed as a walkable golf course, the Badlands said otherwise on holes 15-17. Bully's version of the "Amen Corner" comes to life in full splendor during this three hole stretch. Head Golf Professional Casey Meon takes us on a verbal tour of this impressive trio. "Ron Whitten, Senior Editor for Golf Digest, has written about 'a three-hole stretch in nearly undisturbed Badlands that encapsulates the stark beauty of North Dakota.' Ron also has published that number 15 is the greatest par-3 he has ever played. We have customers that come to Bully Pulpit to play the back nine twice. Between the hundreds of feet of elevation change and dizzying views, this three hole stretch is our most photographed by the public. I've had people say they forgot they are playing golf while playing those three holes. And to top it all off, this group of holes are some of the toughest of the layout. You might head up to hole 14 with a bag full of golf balls and then putt out on 18 with your last one," concluded Meon.

In summary, Bully Pulpit piggybacks on the historical significance of one Theodore Roosevelt, but the Medora area could easily have been made famous by Bully Pulpit instead! For more information on Bully Pulpit and the entire Medora area, visit their website at www.medora.com/bullypulpit
Revised: 09/24/2013 - Article Viewed 22,621 Times - View Golf Course Profile
Share Comment
Written By: Glen Turk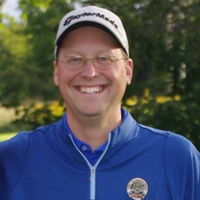 Glen Turk is a Wisconsin native and is the Senior Writer/Editor of Midwest Golfing Magazine. Midwest Golfing Magazine was formerly known as Pub-Links Golfer's Magazine and is a free publication distributed four times per year throughout Wisconsin, Illinois, Michigan, Minnesota, Iowa, Indiana, and Ohio.

His duties at MGM include writing course features, facilitating product testing, and overseeing the overall content and look of the magazine. But clearly his most important task is playing as much golf as his wife allows. Fortunately for him, she plays also and loves out-driving him even with a 60 yard head start.

Glen plays to a 6 handicap but once set a record by having his ball retriever regripped 15 times in one calendar year. It was a December trip to Guam that ultimately did him in. Finally, if you haven't caught on by now, the two most worthy weapons in Glen's writing arsenal are self-deprecating humor and pithy one-liners.

My signature line, "Be A Force on The Course" and now more recently, "Hit 'Em Where They Mow!" can be reused at no charge.