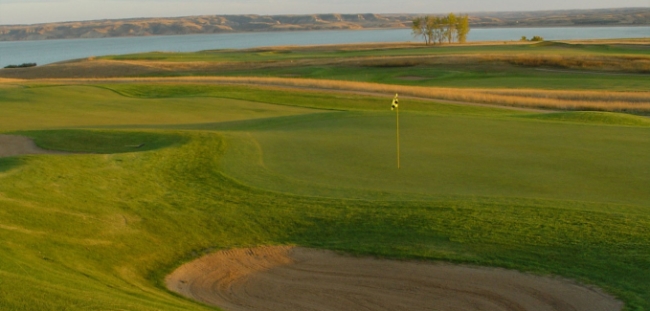 North Dakota's Power Threesome
These Golf Courses Give a Remote State another Reason to Call its Adventures Legendary
By Matt Tevsh
There can be such incredible beauty in simplicity. The lay of the land, aged by centuries. A whip of wind across the plains. Or a sunset on a seemingly infinite horizon. North Dakota is legendary for these things and so are its three most prominent golf courses, which, believe it or not, offer a whole lot more.


Hawktree Golf Course
Whistling Straits in Wisconsin, one of the premier golf destinations in America, with hundreds of irregularly-shaped bunkers and its roaming Scottish Blackface sheep, has nothing on Hawktree. Because at the highly-rated Bismarck golf course, the image of sand and grazing animals is taken to another level. "Our black 'sand' is one of the things Hawktree Golf Club is noted for and makes the course unique," said head golf professional Chuck Ruppert. "Coal slag is a waste product of the local coal plants. It is crushed for us in a nearby community and hauled in as needed... our black sand is a little heavier than other sands and coarser."
Yes, Ruppert said black sand. At Hawktree, the dramatic contrast of the bunkers vs. the rest of the course was born partly out of necessity and partly by chance, according to course designer Jim Engh."We talked about putting white sand in because of the style of bunker that I have - I like to have a lot of contrast with the sand and the grass - but we realized early on with the wind out there that it was going to either blow out of them or be quite dirty very quickly," said Engh. "So there was no sense spending money on white sand that was going to be white for two weeks. I was in the shop one day talking to a guy in the maintenance building and went over to this coffee can that was sitting there and looked into it and saw this sort of black material. We started talking about it and I thought I wanted something that wasn't going to blow out and something that was going to be interesting, so we decided to go with the black."
If the sand fails to strike an impression, then perhaps the sighting of goats will. As a way of "reducing our carbon footprint and dependence on herbicides" course Superintendent Eric Stromstad told the Bismarck Tribune last summer, goats were brought in as an eco-friendly way to clear patches of unwanted weeds. But like Whistling Straits, Hawktree has substance to match its oddities. The course offers 18 "distinct and different holes" according to Ruppert. Hilly prairie lands, water coming into play on 11 holes, and elevation changes help define a course that some have often mislabeled.
"I wouldn't call this a links course per se, but my goal has always been to try and recreate the mindset that I have when I play golf in Ireland," said Engh, a North Dakota native. "That means you have your brain turned on 100% when you're playing. You're either interested in a land feature, a form, or some part of the game or course, or maybe even aggravated a little bit, but to enhance the experience, your senses are always going to be turned on when you're in Ireland, and that's what I try to recreate when I do golf courses. Hawktree is certainly in that category."
To engage all that Hawktree has to offer, greens fees (including range balls) during the peak season are $70.
Bully Pulpit Golf Course
Go to Medora's vacation web site (Medora.com) and it is easy to see where golf ranks among the top draws in the area - right near the top. With Bully Pulpit, the historic little North Dakota town has a golf course that will keep visitors coming from April through October. "It's an opportunity to play golf in a very unique setting," said director of golf Dave Solga. "You can go and play golf just about anywhere and you're not going to find anything that looks like this place. When you're playing here and you look around, you get a 360-degree panoramic view of the rugged North Dakota Badlands, and it's so awe-inspiring that it attracts people. A lot of times the comments when people come off this golf course is 'Wow! That was awesome!'"
Course designer Mike Hurdzan could not agree more. He once said of the thousands of golf course sites he has visited, Bully Pulpit may be the best "without ocean views." And like another Hurdzan-led design in the Midwest, Wild Rock in Wisconsin Dells, his North Dakota contribution clearly gives a golfer the experience of playing three styles of golf course in one. "When you tee off at Bully Pulpit on No. 1," began Solga, "it will take you down into what we call our grassland holes, which are basically part of the river bottom, but they're more open... and then when you make the turn on the front nine and you start playing into No. 7, you start playing into a cottonwood/cedar forest area. Literally when you're standing on the tee on No. 8, you're surrounded by old majestic cottonwood trees, and so we say we have woodland holes. And you'll play the woodland holes all the way through until No. 13, and then you come out of the woodland holes and enter into our Badlands holes. And you'll tee off on 14, 15, 16, tee off on 17 where you'll drop back down into the woodland holes again and that will bring you into the clubhouse."
Adding to the spectacular views along the Badlands holes stretch and the varied topography are cross bunkers, split fairways, and bailout areas which give the course its strategic element. "(Hurdzan) has created some neat optical illusions because of bunker placement and green size. Those bunkers in relation to the green will give some misconception as to how far away (you are). If you were to play this course with the naked eye, you might be a little deceived as to what club you should use. It's not trickery or anything. It just creates a neat challenge," concluded Solga.
Named for a term coined by President Theodore Roosevelt, who owned ranches in North Dakota, Bully Pulpit is $79 (including cart) during the peak season. It also offers a replay rate at half price with the unconventional option of using the replay the next day. Said Solga, "I always like to say the more you play Bully Pulpit, the more you're going to want to play it again."
The Links of North Dakota
Around the Midwest, "links" can be a loose term when it comes to describing a golf course. But at the Links of North Dakota, there is little doubt. Just ask a group of six ardent golfers from the Links of Union Vale, a New York golf club started by the Irish Golf Association, who travelled to the Ray, North Dakota, golf course a few years back on the word of course architect Stephen Kay. "Now when I say these guys are Irish, I mean they're Irish," said Kay, who also designed Union Vale. "They were born in Ireland, and they might be U.S. citizens now, but you can cut their accent, their dialect with a knife. They came out and they could not believe the Links of North Dakota. They said they'd swear they were in Ireland or Scotland."
Others in the golf industry have agreed. Some publications have called North Dakota's premier course one of the purest examples of links golf ever built in America. Its natural-rolling, treeless landscape along the bluffs and banks overlooking Lake Sakakawea gives it the feel. The matter beneath the surface gives it legitimacy. "I could work until I'm 95 years old and I can never see having a better site to build a golf course on than this one," said Kay, who has designed 20 new courses and worked on approximately 300 others in his career. "I've never had a job where I basically didn't have to move any material."
Kay could not believe his good fortune upon examining the site that would become the Links before it opened in 1995. From the "unbelievably good soil" to the lay of the land, he routed a classic having to move only 7,000 cubic yards of dirt. The average course, he said, moves about 250,000. Starting on a limited budget where he, the course's shaper, and the course's irrigation man all left their fees on the table, the Links was completed for a value of a little over $1.3 million. Other similarly-rated courses typically cost many more millions than that.
Kay even deviated from his normal planning to make several of the greens, employing a rare "push-up" technique where the native soil is used to shape the greens instead of using other common processes based on USGA specifications.
As minimalist as the design was, a stunning course emerged giving life to a remote North Dakota area as a golf destination. The Links remains the No. 1 course in the state by many opinions, and with a rating of 75.1 from the back tees and a slope ranging from 114 to 128, it has the uncommon combination of being a great course for players of all skill levels. By comparison, Hawktree and Bully Pulpit have similar ratings for scratch golfers, but the slope rating for each course ranges from 116 to 137 and 113 to 138. Greens fees for the Links are $74 during the peak season.
Revised: 11/17/2012 - Article Viewed 37,881 Times - View Course Profile

About: Matt Tevsh
---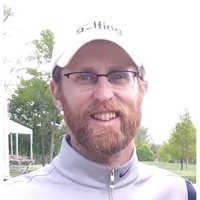 Matt Tevsh has been a freelance sports journalist since 1996. He has been published in multiple periodicals including Midwest Golfing Magazine and on various websites including GolfTrips.com. He is an avid golfer and a former member of the Golf Writers Association of America.
---
More Articles by Matt Tevsh