Share:
---
North Dakota's Bismarck is an Under-Rated Golf Capitol
Golf That's On The Marck!
By Glen Turk
Life is full of initial reactions. Like every time I see a police officer, whether or not I'm going the speed limit, I'll automatically tap the brakes. Or more recently, anytime I see the slightest reference to Britney Spears, I immediately change the channel. And my initial reaction when the powers that be at Midwest Golfing Magazine told me I needed to get on the road to North Dakota to do a feature, "If I took a plane or didn't run out of gas like the first time I went, I'd get there a lot quicker."

The best part of this job is getting to explore remarkable golf destinations I wouldn't otherwise find. And of the trips I've taken over the past four years, I would have to say the Bismarck/Mandan collection of courses surprised me the most in terms of affordability and playability. Before I took my initial trip in 2006, I thought of the Peace Garden State as a golfing hotbed much like I viewed Arizona as a ski destination. I just learned from my wife I am wrong once again, as people do ski in Arizona just like they do golf in North Dakota. Fortunately, my two wrongs do make a right, if you're heading right to North Dakota to enjoy a ridiculously affordable golf vacation.


Hawktree- Bismarck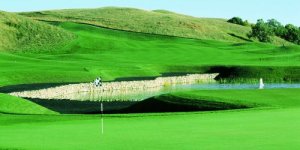 Hawktree is the flagship course of the Bismarck-Mandan metropolitan area and is currently ranked as the 89th best course in the nation according to GolfWeek Magazine's 2008 poll. Opened in 2000, Hawktree boasts 360 degree panoramic views, epic sunsets, and the ability to see 14 of the 18 holes from their magnificently perched clubhouse. One of Hawktree's most distinguished amenities is their coal slag bunkers. The properties in the nearby sand create a dark charcoal finish and an extremely soft consistency. I can honestly say that these are the only bunkers I've ever wanted to test.

Another extraordinarily unique facet of Hawktree is the fact it can be played from eight different yardages due to an ingenious design. Players receive a color-coded sheet after check-in that reveals eight different yardage guides. Simply follow your desired color scheme and you'll be able to enjoy the course from 7085 all the way down to 4868 yards and six more yardages in between. Other amenity of note is one of the wildest putting greens I've ever seen. There are no borders on this green, so a putt hit too firmly could roll down the adjacent sidewalk and into the parking lot. Maybe that's a subliminal message telling you the greens are slick at Hawktree.

Holes you'll want to replay the same day include the downhill 164 yard par-3 3rd and the 569 yard par-5 7th on the front nine. Both holes feature elevated tee shots that seem to hang in the cloudless North Dakota sky forever. It is important to note that Bismarck's average temperature in May is slightly higher that Milwaukee Wisconsin's. Even though Bismarck is farther north than Milwaukee, it doesn't have to deal with a pesky wind off the lake, otherwise known as "lake effect."

Once on the back nine, Hawktree continues its greatness. Head Pro and all around great guy Chuck Ruppert loves coming to the 326 yard par-4 16th with the match on the line. "The 16th hole is a great late round match-play hole because you can make a 2 or an 8 on this hole. When the pin is tucked back left it's one of the best shots in America," explained Ruppert. The 16th hole is a primary example of what makes Hawktree so memorable -- each hole can be played a different way depending upon wind conditions, flag positions, and strategy. Some days the proper play is to hit a 4-iron to the 125 yard marker, while other days its best to pull out the big stick and go for the green.

In closing, what makes Hawktree consistently voted the finest course in the Peace Garden State? Immaculate conditions throughout, distinctive design features like coal slag bunkers and most importantly a course that never plays the same way twice thanks to the wind, the tees you choose, and elevation changes. And if you're like me, a killer Triple Meat Grinder sandwich after the round never hurts their ranking either. For more information on Hawktree, visit their website at www.hawktree.com or call (888) 465-HAWK.


Riverwood- Bismarck
Riverwood Golf Course near downtown Bismarck offers one of the most idyllic settings for golf you'll ever find at a municipal course -- period. Even though the course was opened in 1969, Riverwood is a tree-lined, 1920's era venue like Brown Deer Park in Milwaukee, Wisc., home of the PGA Tour's U.S. Bank Championship. Carts are only allowed on their double-laned cart paths, an ingenious design that offers plenty of room for two lanes of traffic. The fact that carts aren't allowed on the course is probably the number one factor in Riverwood's immaculate conditioning. Even though the course sees roughly 35,000 rounds per year, most of those are walkers, which keep the course happier and the golfers healthier. And the greens, oh the greens! All 18 are Tour quality in every sense of the term.
Much of the success of the three Bismarck area municipal courses can be credited to Dan Waldoch, the Golf Operations Manager for the Bismarck Park District. "The Bismarck-Mandan area is a great golf destination as we have well conditioned facilities with a variety of venues to choose from. With the growth of the area we are also getting many new lodging and dining facilities to choose from. The area is also a great home base for those wishing to travel the state and test many of the other golf courses in the area," stated Waldoch.
Riverwood GC winds and weaves through a bevy of Cottonwood trees that provide closure, yet not claustrophobic fits of rage. The towering Cottonwoods also provide much needed protection from the winds that normally whip up from the plains. Many of the driving areas are tight, but the holes are so cleverly designed the golfer usually has a safe side that will take a huge number out of play. Playing from the tips may be a bit too much to ask for the weekend warrior, but the 6421 yard white tees are a perfect way to spend 4 1/2 hours in North Dakota's capital city. As an added bonus, there is a good bet you'll see numerous examples of woodland wildlife throughout the property, as the course is located in the gallery forest of the nearby Missouri River.
My personal favorite on the front nine is the 374 yard par-4 4th, a dogleg left that requires you to draw the ball around the trees in order to have a look at the putting surface. What a concept, a course that actually requires you to shape a shot and use your imagination! The best in the back has got to be the most straightforward scenic golf hole I've seen in a while. At 227 yards from the tips, the par-3 16th is one of the most daunting shots you'll face at Riverwood. Overhanging cottonwoods are everywhere and create an amphitheater setting sure to elicit a "Wow Factor" immediately. Riverwood's rates are so low I should have to check with the FCC I'm not breaking any rules by reprinting them. For the poultry $23 a county resident can walk 18 holes, while riding is $35. For more information on Riverwood, call their pro shop at (701) 250-7677.
Prairie West-Mandan
Only moments away from Bismarck across the Missouri River, rests the suburb of Mandan and the great municipal track Prairie West. The 6681 yard course is a wonderful mix of links style meets target golf as the course weaves through tree lined areas, wide open spaces and has just enough water hazards to keep you on your toes. The course incorporates an extremely laid back, casual atmosphere -- as it's the perfect place to enjoy 9 holes with your buddies after work, or get out with the family on the weekend. And here's a bonus for all fans of the NFL, when I was there I swear there was about the same amount of Green Bay Packer paraphernalia in their pro shop as the Packer Hall of Fame.
As mentioned before, Prairie West is highlighted by bold features including water falls, island greens, and fairway moguls. It is extremely rare to find a quality links style property just a pitching wedge off the main drag. The par-5 6th hole brings all of the above attributes together for one amazing hole. Halfway down the right side of the fairway reveals a giant pond with a cascading waterfall that creates a glorious setting. The pint size putting surface is flanked by the same lake and will make you think twice about reaching this otherwise reachable par-5 in two.
Other great holes found at Prairie West include the semi-island green par-3 12th. From experience, this shot is much tougher than the total island green found at the TPC Sawgrass in Ponte Vedra Beach, Florida. The touring pro's only have 135 yards from tee to green, where the 12th measures a robust 173 yards from the tips. Finally, make sure to take in the beauty of the 442 par-4 16th. You'll be driving through a shoot of trees to a slight dogleg right configuration. The hole is open, but boy is it long! You can run your approach shot on the green, a characteristic made famous on so many links designs. For more information on Prairie West, call their pro shop at (701) 667-3222 or visit www.mandanparks.com.
Apple Creek- Bismarck
Apple Creek is a semi-private country club with a reciprocal agreement for out of state players, so anyone traveling from the Midwest can take advantage of this challenging par 72, 6494 yard track. Apple Creek has a celebrated history, as the course has hosted numerous state professional and amateur tournaments. Opened in 1948, Apple Creek boasts two distinctively different playing experiences. The front nine features a traditional Midwestern layout, with tight, tree-lined holes greeting golfers at nearly every turn. The 553 yard par-5 9th is Apple Creek's flagship hole, as players are forced to cross the creek twice before hitting an approach to the course's largest putting surface.
But when players proceed to the 10th hole the property opens up to reveal an exciting links-style environment. Fewer trees, much larger greens, and more risk/reward shots are present on the nine hole track built 30 years after the original front nine. The course is named after the Apple Creek that weaves through both nines and it's this body of water that creates decision and more often than not indecision when playing it for the first time. Amazingly, Apple Creek impacts 13 of the 18 holes on the property. Apple Creek does offer its members and guests a full-service pro shop, cart rentals, driving range, practice green, lounge, restaurant, and on site PGA Professional.
Jim Laducer purchased Apple Creek CC in 2006 and has made numerous improvements since then including a full renovation of the clubhouse. Apple Creek has also established a Junior Golf Program to ensure the entire family may benefit from their membership. For more information on Apple Creek, call their pro shop at (701) 258-5234 or visit
www.applecreekcountryclub.com
Finally, if you like what you've read and seen, you can request further information on all seven courses within the Bismarck/Mandan area. Simply send an email to visitnd@discoverbismarckmandan.com and they will send you a complimentary travel brochure.
Hawktree - (888) 465-4295 www.hawktree.com $63
Riverwood - (701) 250-7677 www.bisparks.org $23
Prairie West- (701) 667-3222 www.mandanparks.com $23
Pebble Creek- (701)-223-3600 www.bisparks.org $18
Apple Creek- (701)-258-5234 www.applecreekcountryclub.com $65 with cart
Tom O'Leary (701) 222-6531 www.bisparks.org $23
Mandan Municipal- (701-667-3272) www.mandanparks.com $15

Article Tags: North Dakota's Bismarck Golf
Revised: 11/08/2010 - Article Viewed 25,339 Times
Share Comment
Written By: Glen Turk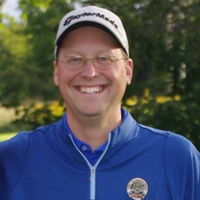 Glen Turk is a Wisconsin native and is the Senior Writer/Editor of Midwest Golfing Magazine. Midwest Golfing Magazine was formerly known as Pub-Links Golfer's Magazine and is a free publication distributed four times per year throughout Wisconsin, Illinois, Michigan, Minnesota, Iowa, Indiana, and Ohio.

His duties at MGM include writing course features, facilitating product testing, and overseeing the overall content and look of the magazine. But clearly his most important task is playing as much golf as his wife allows. Fortunately for him, she plays also and loves out-driving him even with a 60 yard head start.

Glen plays to a 6 handicap but once set a record by having his ball retriever regripped 15 times in one calendar year. It was a December trip to Guam that ultimately did him in. Finally, if you haven't caught on by now, the two most worthy weapons in Glen's writing arsenal are self-deprecating humor and pithy one-liners.

My signature line, "Be A Force on The Course" and now more recently, "Hit 'Em Where They Mow!" can be reused at no charge.