Share:
---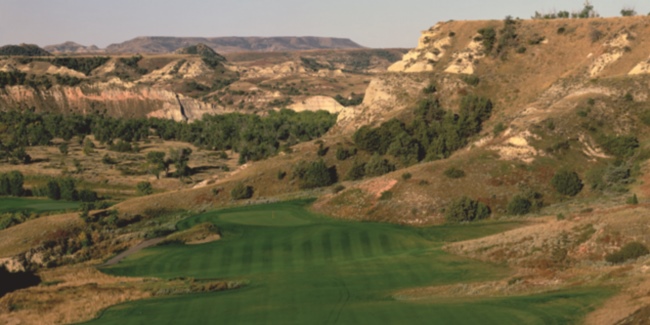 Underrated Golf Getaway Exists in North Dakota, Minot
Golf in Minot North Dakota
By Glen Turk
When you have a 14 hour mostly all-expressway drive to your next big golf destination, you have a tendency to talk about everything and anything. So when the crew of MGM headed to Minot in north central North Dakota, we discussed the topics that affect our lives. We first analyzed the journalist stylings of America's Finest News Source, The Onion. Then we graduated to an in depth talk on Peyton Manning's pre-snap genuflections and how pathetically annoying we've determined they've become. Finally, by hour eight we moved on to a poignant debate on the childhood factors that left Britney Spears so ill-equipped to handle stardom. Oh, and then for the final 30 minutes we discussed how excited we were to feature a new golf hotspot for the magazine. And now you see why no one has ever claimed us to be the sharpest tools in the shed.

If you've read our publication over the past three years you've probably noticed our affinity with the Bismarck/Mandan area in terms of being an affordable and enjoyable golf getaway. Only 110 miles straight north on Hwy 83 lies Minot, North Dakota, the 4th largest city in the Peace Garden State. Nicknamed "The Magic City," Minot was founded in 1886 during the construction of the Great Northern Railroad. But enough from wikipedia -- readers of this publication want golf history when discussing Minot.

Below is a rundown of what you'd expect to find when traveling to Minot, or as we say when you're thinking of planning your next golf vacation, "Why Not Minot?"


Souris Valley Golf Course
The flagship public course in the Minot area is Souris Valley GC. The course plays to a par 72, and stretches out to 6759 yards from the tips. The William Spears design was opened in 1968 and offers players the opportunity to cross the Souris River numerous times throughout the round. Souris Valley features four sets of tee boxes so players of all abilities can challenge this scenic layout. Other amenities of note at Souris Valley include a full-service pro shop, practice range, cart rental, club rental, and lessons from their PGA professional staff.
Steve Kottsick, Souris Valley's Head Golf Professional takes us on a verbal tour from there. "Our golf course is always in very good condition which is highlighted by large greens and the fact the course requires you to use of all of the clubs in your bag," stated Kottsick. "My favorites at Souris Valley include hole No. 5, a par-4 that measures 431 Yards. The hole is slightly uphill with a fairway bunker on the right side of fairway. It is completely tree lined and in my opinion it's just a beautiful golf hole. My next favorite is hole No. 11, a straight away par-5. An elevated tee shot falls down to a tree lined fairway with out of bounds left and two bunkers by the green. The putting surface is multi-leveled and very undulating. Overall it's just a wonderful golf hole especially in the fall when you overlook the beautiful Souris Valley with the all the various colors," said Kottsick.
Souris Valley is ranked # 4 in GolfWeek Magazine's 2007 review of public courses in North Dakota. And if you're a regular reader of this publication, you may remember the other three- Hawktree in Bismarck, The Links or North Dakota in Lewiston, and Bully Pulpit in Medora. The aforementioned three are all ranked nationally as well, so Souris Valley is truly in elite company. You'll love Souris Valley because so many holes are of the risk versus reward variety and the myriad of landscapes are intoxicating. I'd call it a hybrid course as some holes are tree-lined while other are more open, almost links style.
Finally, we love Souris Valley and all the courses in the Minot area because their pricing structure is ridiculously fair.
For more information on Souris Valley, call their pro shop at 1-800-683-6585.
Minot Country Club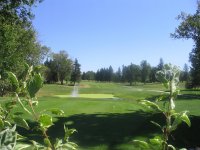 Looking for county club conditioning and elegance in Minot? Then out of state visitors should take full advantage of Minot County Club. Adjacent to the Souris River and lined with mature trees that compliment the scenic layout, Minot Country Club plays to 6565 yards from the back tees. The Tom Vardon design opened in 1929 and features four tee boxes that allows Minot CC to play at 6200, 5200, and 4700 yards respectively. But don't take our word for it you'll love Minot CC -- it has been rated as the state's best classic course by GolfWeek Magazine.

Jon Hanson, Minot CC's Director of Sales and Marketing, believes superb conditioning will always bring members and visitors back for more. "We feel that the number one thing that sets us apart from other area golf courses is our dedication to the manicuring of the golf course. We also strive to have the best putting surfaces in our state, as we are known for our very fast greens and unique contours."

Since Minot CC was established in 1929, I'm sure you've got a mental picture of their layout. Jon Hanson fills in a few gaps with this description of the property. "The course is very traditional as we are located in a river valley, and you will find mature trees on each hole. Most golfers when they first visit our course will look at the yardage and assume an easy round, and they later find that with the tricky greens and stately trees the course is forgiving yet ever challenging," explained Hanson.

The term "signature hole" need not apply at Minot CC, but the local's love two par 3's that end in the number 7. "The 7th hole is a 200 yard par-3 and is equipped with an evergreen lined fairway, water front left, and a postage stamp green with bunkers left and right. We are currently building a new green complex for our 17th hole. After the project is complete sometime this fall, we feel the hole will instantly challenge number 7 as the signature hole," stated Hanson. "The new 17th will consist of six new tee complexes varying in yardage from approximately 95 yards to 198 yards. The green is protected in front by a large pond with a stately rock wall. The hole features a large forgiving green that welcomes the well struck shots. But shots that are long and left will be swallowed by a pot bunker. We are very excited for this new hole to become playable."

Besides having a top-notch golf course, Minot CC also has an impressive list of amenities, including a few that have been recently renovated. Their swimming pool went through a major renovation three years ago; their deck was completely redone and a splash pad/play area was added as well. Finally, Minot CC's outside dining area also received a facelift to better serve their 350 golfing families that call Minot CC home.

And here's a fun fact about Minot CC -- The Western North Dakota Charity Pro-Am hosted by Minot CC since the early 1980's has the distinction of being Tom Lehman's first professional victory. Tom has since donated well over a million dollars back to local charities throughout its existence. For more information on Minot Country Club, visit their website at www.minotcountryclub.com or call (701) 852-3591.


Wee Links Golf Course
Wee Links GC in Minot was the brainchild of Mr. Jack Hoeven, a local banker. The course has the appearance and amenities of a real golf course -- the only difference it was made just for kids. Opened in 2003, the course features short holes (roughly 80 yards long) with excellent greens and a practice putting green. Incredibly, the Wee Links GC only charges $1 greens fee for kids and club rental is only 50 cents. Adults can walk along or the can play as long as they are playing with a child. An adult only pays $5.00 when accompanied by a child.
Wee Links also features a full-service pro shop complete with numerous junior accessories and clubs. The Jack Hoeven Wee Links is also the only First Tee Chapter in North Dakota. The mission of the First Tee is to impact the lives of young people by providing learning facilities and educational programs that promote character development and life enhancing values through the game of golf. For more information on Wee Links involvement, visit their website at
www.weelinks.org
.
Other Golf Options When In The Magic City
Wildwood GC-18 Holes (701) 725-4653
Apple Grove GC- 9 Holes (701) 852-5460
RoughRider GC -9 Holes (701) 723-6864
For additional information on other great North Dakota courses, visit
www.lewisandclarkgolftrail.com

Article Tags: Golf in Minot North Dakota
Revised: 05/11/2010 - Article Viewed 23,348 Times
Share Comment
Written By: Glen Turk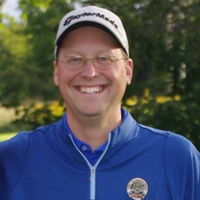 Glen Turk is a Wisconsin native and is the Senior Writer/Editor of Midwest Golfing Magazine. Midwest Golfing Magazine was formerly known as Pub-Links Golfer's Magazine and is a free publication distributed four times per year throughout Wisconsin, Illinois, Michigan, Minnesota, Iowa, Indiana, and Ohio.

His duties at MGM include writing course features, facilitating product testing, and overseeing the overall content and look of the magazine. But clearly his most important task is playing as much golf as his wife allows. Fortunately for him, she plays also and loves out-driving him even with a 60 yard head start.

Glen plays to a 6 handicap but once set a record by having his ball retriever regripped 15 times in one calendar year. It was a December trip to Guam that ultimately did him in. Finally, if you haven't caught on by now, the two most worthy weapons in Glen's writing arsenal are self-deprecating humor and pithy one-liners.

My signature line, "Be A Force on The Course" and now more recently, "Hit 'Em Where They Mow!" can be reused at no charge.